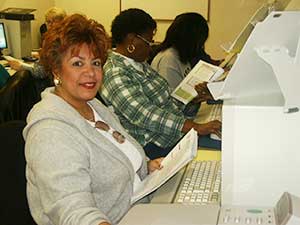 As a contractual partner of Cook County Works Local Workforce Area 7, we offer job placement assistance, job readiness and vocational training to dislocated workers under the Workforce Incentive Act (WIA).  
The Dislocated Workers Program is offered to qualify participants who have successfully certified and the eligibility through Cook County Works training program. Courses are designed to provide the student entry level skills using the computer which includes keyboarding, word processing, spreadsheets, and data base software.
This program is designed to equip students with working knowledge for quick reentry into the workforce. For those who have lost their jobs, training is offered for 4 months in Office Technology, Computer Programming, Internet, A+ Certification and Microsoft Certified Systems Engineer (MCSE). Job placement is a major component of this vocational training to enable participants to enter into gainful employment. The job placement service provides students with available job opportunities and skill set requirements. Additional services include advice concerning career planning and help in attaining employment upon completion of training. Be advice, we do not guarantee placement or salary level; however, we have been able to achieve 80% or higher placement rate.
WIA Program Qualifications
Adults ages 22 and above
Resident of Cook County
Meet income guidelines
Completion of program application and Testing
WIA Program Orientation and Workshops
Program Orientations are held every Monday from 10 A.M. to 3 P.M. 
Work Readiness Workshops are held twice a month, five days a week, four hours per day. Call 708-848-1700 for a schedule.